MANSCAPING & BODY TRIMMING
TUTORIAL
Male Brazilian Manzilian Body Grooming
#1 Professional ONE on ONE body trimming & body shaving service
designed for men by men. From head to toe and everything in between.
Male Lower Body Hair Trimming
​
Male Brazilian/Manzilian/Brozilian also known as "Boyzilian" "Guyzilian" or "Back, Sac & Crack" trimming, shaving or shaping

- slightly reduced in length.

Shaft/ taint/pubic/ balls trimming or shaving

Full Butt Treamming Shaving & Between (Full butt including crack/anal trimming or shaving)

Legs trimming/slightly reduced in length natural body trimming or shave)

Bikini trimming or shaving
Male Upper Body Trimming
​
Back trimming or shaving

Shoulders trimming or shaving

Chest trimming, slightly reduced in length or shaving

Abs trimming, slightly reduced in length or shaving

Half Arms trimming, slightly reduced in length or shaving

Full Arms trimming, slightly reduced in length or shaving

Underarm trimming or shaving

Hairlines/Face/Neck trimming or shaving
Each area can be expertly trimmed with precision for a sculpted and uniformed look.
So natural looking that ONLY YOU will know. ​
​
Some guys want very natural but groomed look. Thats why we need to learn how to manscape hair in natural way. Hairline fading is #1 technic we use to give natural look
​
GLIDE TRIMMERS AGAINST A HAIR GROWTH. ALWAYS FOLLOW THE HAIR PATTERS.
Goes really close to the skin.
Shall be careful to not to cut skin
'0' guard allows closer to skin trim & protects from accidental cuts
For longer hair and a fuller look
CLEAN & OIL TRIMMERS!
Make sure to clean the trimmers with a brush and oil it before using it daily. Oiling will help to increase the life of your trimmer.

If oiling is required, take the hair clippers off, and oil the trimmer blades. Run the blades while oiling them with the oil bottle that comes along with the trimmer.

Keep the blades on for 20 seconds as it will evenly spread the oil over all blades.

After oiling, make sure the clippers are dry before you start trimming, or else, your hair might stick to it.
Manscaping regimen & technics matter!
​
Trimming your body and especially pubic/balls successfully is based on good technique, proper steps and the right tools.
​
1. Skin Cleansing.
2. Dry shave: apply poudra then carefuly shave b) wet shave: make skin wet (hydra jet steamer) , apply shaving cream
3. Double Shaving with disposable razor
- Make sure the client see you opening fresh disposable tool
4. Post Shave Hot Towels cleans +Toning (hydrating serums)
5. Antibacterial Skin Protection ( Aquaphor Ointment)
Body Trimming Manscaping Grooming
Body Trimming Manscaping Grooming
Only the safest body trimming techniques. Blades guard have to be on trimmers

Blades need to be always pre-oiled once a day & cleaned after each client,

Disposable shaving tools and trimmers sterilization after each client. I follow strict methods to prevent cross-contamination.

Make sure your licensed and liability insurance up to date.

ALWAYS use of post-trimming and post shaving antibacterial cream (ointment based) together with botanical serums ( hydration)
​
- HYDRO JET STEAM CLEANING -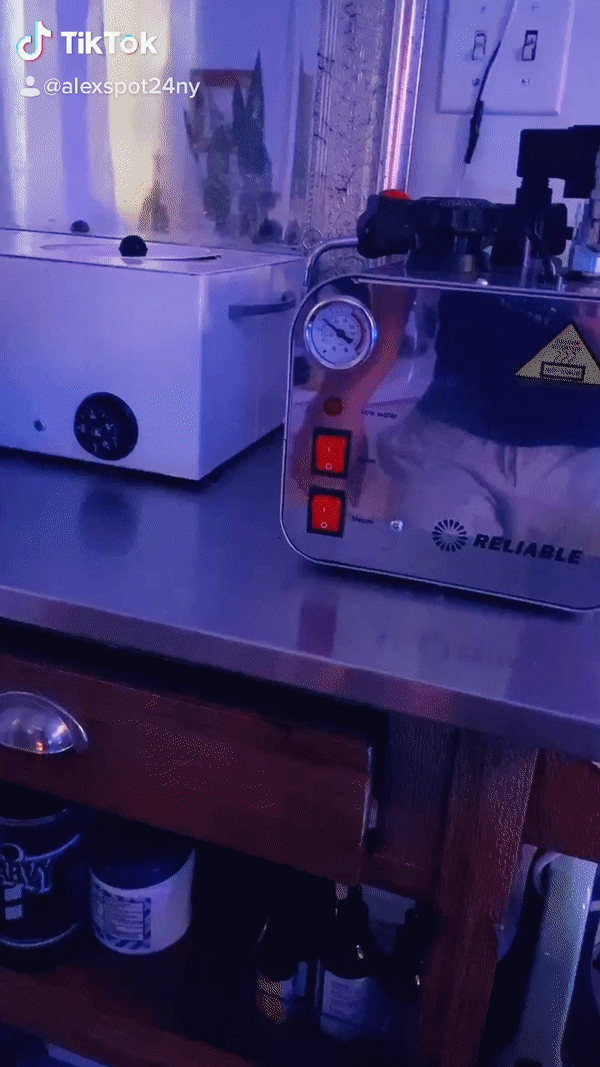 Each session STARTs & ENDs with a deep skin cleansing via our JETTA steam system.
•

It's cleansing.

Steam opens up your pores and helps loosen any buildup of dirt for a deeper cleanse.
•

Steam deodorizes & sanitizes

with heat and moisture, opening doors for vitamin creams.
•

It promotes circulation.

This boost of blood flow nourishes your skin & delivers oxygen. The result is a natural, healthy glow.
​
•

It helps your skin better absorb skin care products.
​
R

eleases trapped sebum + Promotes collagen & elastin + Soothing
​
We believe that all male Brazilian Manzilian body trimming & shaving sessions at Alexspot24 Men Spa NYC, SHALL include calming aftercare therapy.
- Healing botanical serums soothe & hydrate & prevent ingrown hairs.
- High-frequency therapy: tighten skin, reduce skin irritation, kills inflammation-causing bacterias strengthen lymph activity, close pores.
The high frequency machine is a tool that emits electrical currency that produces oxygen and pushes it deeply into the pores to eliminate all of the bacteria and help prevent future ingrown hairs. It also helps reduce redness, minimizes bumps, and helps with healing. High frequency treatments are also used to increase blood circulation, and stimulate collagen production, making it an efficient anti aging and brightness tool.
​
- Intensive aftercare with Hydra-Jelly mask, calming, hydrating, cooling. (Certified organic ingredients)
​