Customized Intimate Care


Butt- Bikini- Back Facials
Blend of Botanical & Pharmaceutical Care!
250+ ways to customize your experience.
​
EVERYTHING INCLUDED + NO GIMMICKS + EXCELENT SERVICE
STEP-BY-STEP
TUTORIAL
​
•Pre Treatment
1. Skin type ( identify skin type to understand what products to use)
2. What conditions to treat - acne/bumps, or brightening, or overall hydration

• Facial steps
1. 1st Cleansing with an astringent cotton square.
2. 2nd Steam & Hydra-Jet myst. Use sugar Scrub + cleanser + scrubbers.
3. Rinse & Hot towels:
Remove all cleanser with disposable sponges and hot towels, use
hydra jet steamer to remove the extra cleanser.
4. Hydra-dermabrasion machine: skin resurfacing/deeper
exfoliation, extract impurities. (make sure to use lower vacuum suction for sensitive skin.)
5. Rinse & Hot towels
6. Extraction if needed. Sterilize with alcohol. must use high-
frequency right after extraction to close the pores and disinfect.
7. Oxygen- infusion: applying toner base with peptides=
Amino acids+proteins (re-applying moister
rejuvenate)
8. Hvdra-iellv mask. You can use High frequencv tool for
acne/post extraction
+LED light for 10min
9. Remove mask with a bit of water and sponges
OPTIONAL: Chemical peel if needed
- skin all other
steps
10. Botanical serums or brightening serums
11. High frequency to close pores
12. Collagen cream massage
13. Skin protector to lock moister & protect pores
- THERMAL HYDRO JET STEAMING -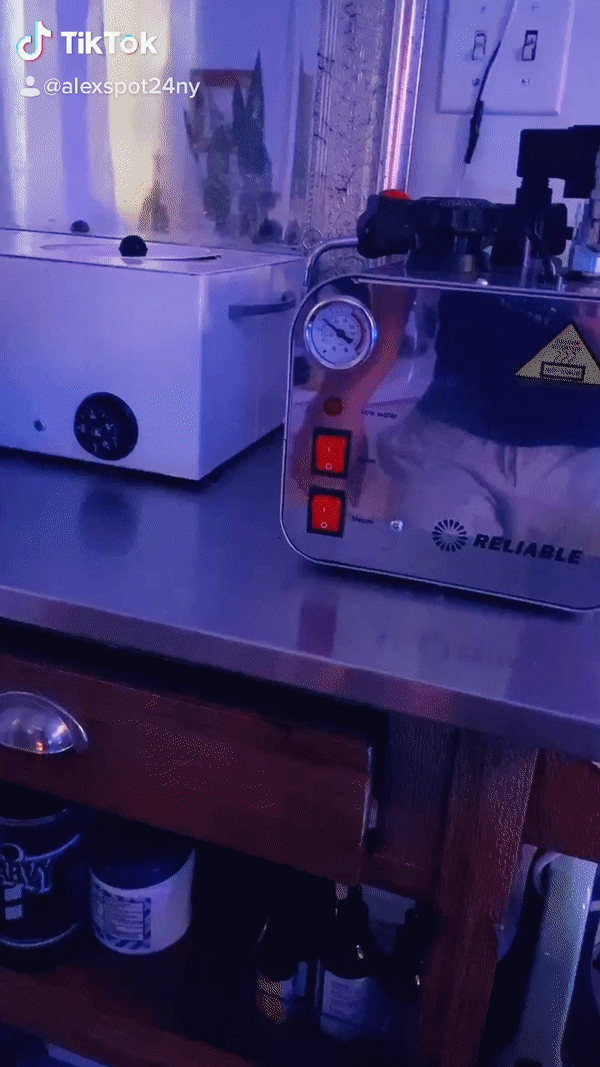 Each session STARTs & ENDs with a deep skin cleansing via our JETTA steam system.
•

It's cleansing.

Steam opens up your pores and helps loosen any buildup of dirt for a deeper cleanse.
•

Steam deodorizes & sanitizes

with heat and moisture, opening doors for vitamin creams.
•

It promotes circulation.

This boost of blood flow nourishes your skin & delivers oxygen. The result is a natural, healthy glow.
•

It helps your skin better absorb skin care products.
R

eleases trapped sebum + Promotes collagen & elastin + Soothing
Hydrojelly™a new generation of peel-off masks boosted with pure algae, organic active ingredients and new electrolyte technology
​
The skin cannot absorb or retain water without the proper balance of electrolytes.

The key is infusion of electrolytes to boost skin hydration (just drinking water is not enough).
The masks form a vacuum-like seal that compresses facial contours,
provide a unique silky texture and function as the mask blankets the skin.
HYDRA DERMABRASION
OXYGEN SERUMS INFUSION
A State of the Art Service
1. Fluid Hydro Dermabrasion
Better Hydro Exfoliation & Extractions with Hydrodermabrasion serums, Hydro Diamond and Clear Tips
2. Oxygen Infusion
Deeper serums infusion and skin hydration
Butt Bikini Facials - Intimate care
Search for male waxing or male waxing near me to find
best
waxing for men services
why our customers keep coming back:
Only use the highest grade products and the safest techniques.

Follow strict sterilization methods to prevent cross-contamination.

We are licensed & insured professionals.

Your privacy is our priority.

Free tips and online support during the process.

Satisfaction Guaranteed
More About Me